Texas Panhandle
I dag gik turen fra El Reno til Amarillo i Texas Panhandle. Vi havde aftalt at slappe lidt af, da vi skal have indhentet noget søvn og se lidt seværdigheder.
Vi tog det stille og roligt og spiste atter morgenmad på Waffle House. Udenfor blæste det kraftigt fra syd. Temperaturen var 31 grader og stigende. Indtil videre har vi ikke haft problemer med køligt vejr ligesom sidste år.
Der var cirka 400 km ned til Amarillo. Vi tog af sted ved middagstid. Vi ville prøve at holde ind til siden ved det sted, hvor pickup trucken lå. Desværre havde de spærret nødsporet af og fjernet bilen og var i gang med at fjerne træer. Så vi måtte bare fortsætte.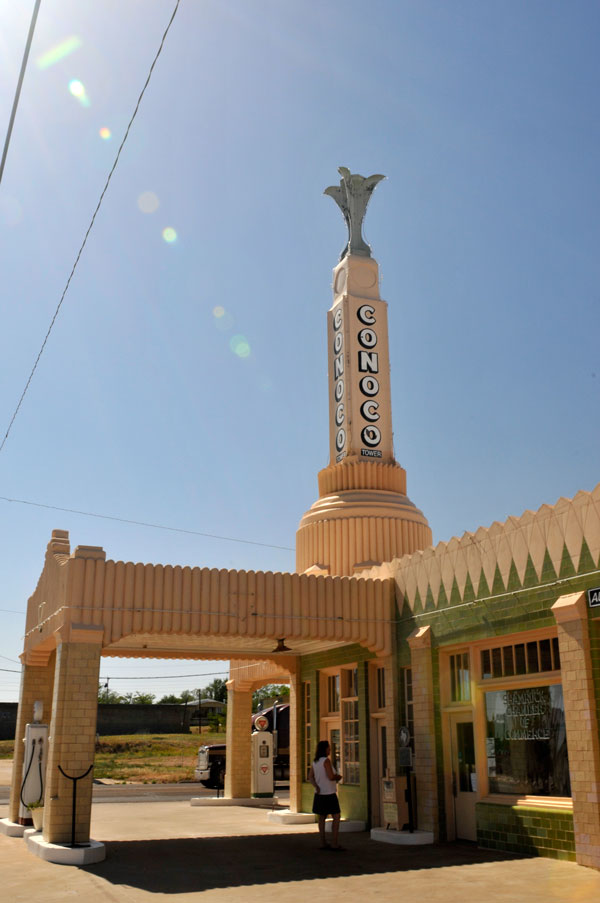 Temperaturen nåede snart op på 37 grader. Vi holdt ind i byen Shamrock, der ligger på Route 66. Byen er kendt for sin særprægede tankstation i art deco-stil.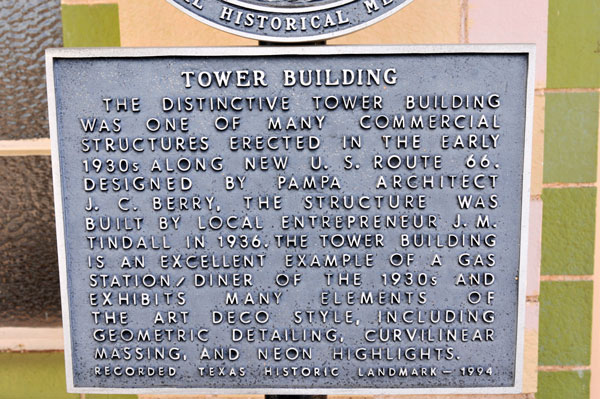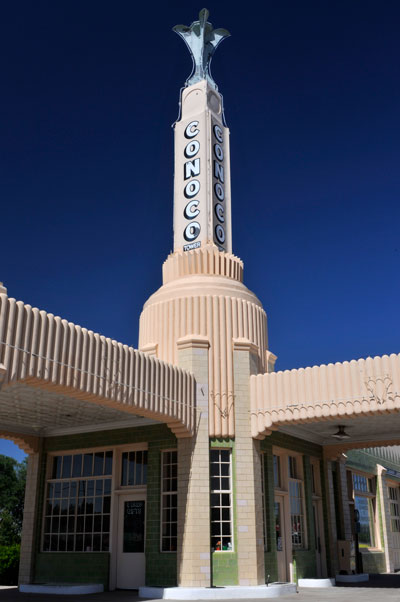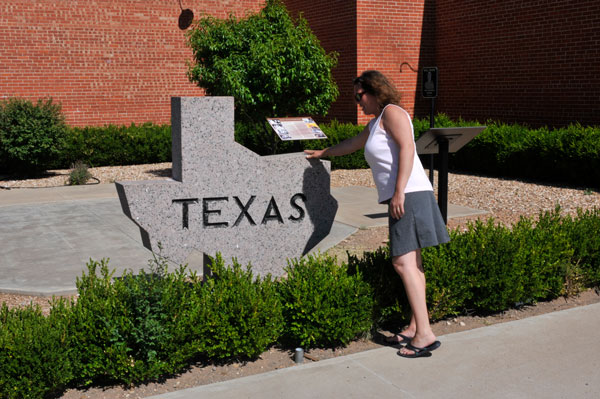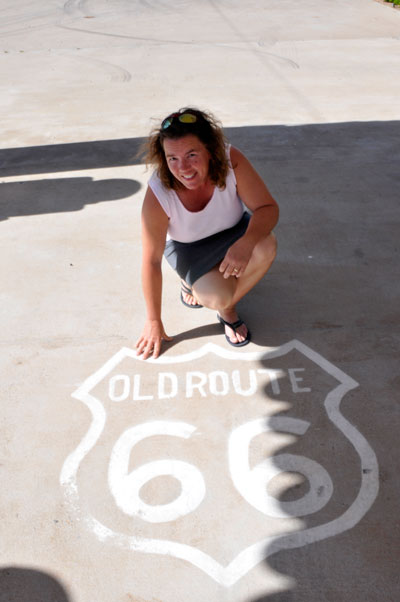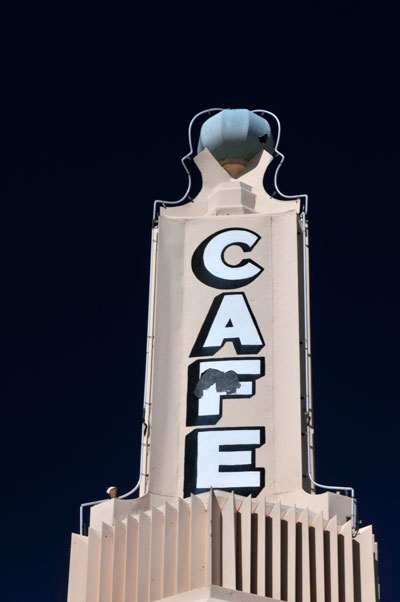 Der blev også tid til et stop i turistcentret, hvor der var en flot udsigt ud over landskabet.

Vi ankom til Amarillo ved sekstiden og checkede ind på Days Inn. Ikke det, vi boede på sidste år, Per og Thomas, men det lige før. Her var der udendørs pool, så vi skyndte os ud at få en dukkert.
Bagefter skulle vi naturligvis spise på Big Texan, hvor de serverer store bøffer. Man kan blandt andet få en to kilo stor bøf ganske gratis, hvis man spiser den og tilbehøret på under en time. Her er et link til deres hjemmeside: http://www.bigtexan.com. Det viste sig, at man kunne få en gratis limousine med kohorn på køleren derhen og tilbage igen. Sådan!
Mette valgte en bøf på 250 gram, og jeg snuppede en på 340 gram. Mens vi spiste, viste jeg Mette bordet, hvor man skal sidde, hvis man vil prøve kræfter med den store bøf på to kilo med tilbehør. Vi snakkede om, at det kunne være skægt, hvis der lige kom en og prøvede… Og det gjorde der! En stor fyr fra Florida ville gøre forsøget. Bøffen så helt surrealistisk ud, og så alt tilbehøret! Det kan man bare ikke, tænkte vi. Men han gik frisk til den. Da der var gået en halv time, havde han spist bøffen, Efter 40 minutter kæmpede han med kartoflen. Da der var 10 minutter tilbage, gik han i gang med salaten. Derudover manglede han stadig friturestegte rejer og en stor bolle. Fem minutter før tid smed han håndklædet i ringen. Surt! For han var meget tæt på. Men det var da en fed oplevelse. Bagefter snuppede vi limousinen hjem godt mætte.
I morgen skal vi ud at kigge lidt på seværdighederne og finde ud af, om vi skal nordpå eller sydpå.
Hilsen
Mette og Kai-Asle
PS Vi har desværre konstateret, at vores nye bil også har fået haglskader. Kølerhjelmen har fået adskillige store buler, samt taget og den ene dørstolpe. Der var ikke andet for end at ringe til biludlejningsselskabet igen. De ved godt, at der har været voldsomt vejr, så det var ikke noget problem, og vi er forsikret, men nu vil vi helst ikke have flere skader. 🙂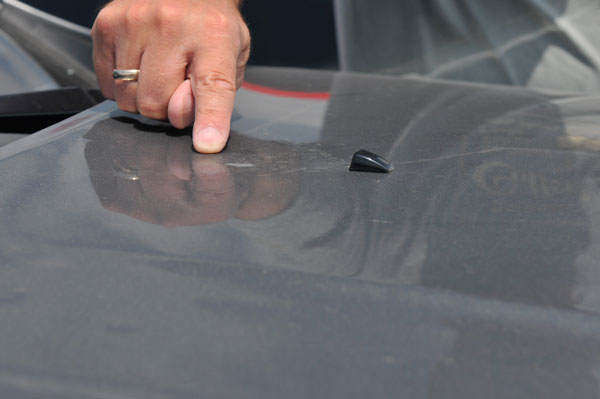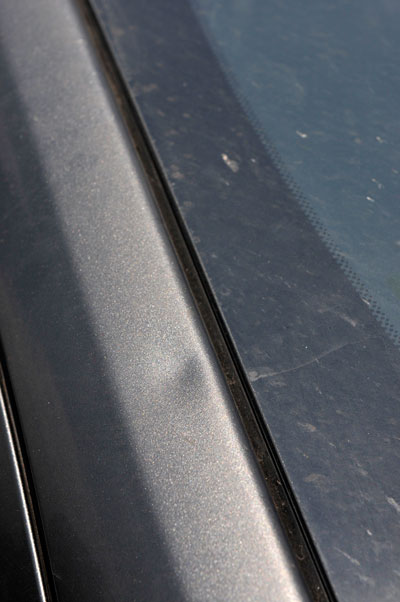 https://www.stormhunt.org/wp-content/uploads/2011/05/019.jpg
602
400
admin
https://www.stormhunt.org/wp-content/uploads/2019/04/03_hjemmeside-1.png
admin
2011-05-27 23:11:32
2012-03-10 00:47:20
Stormchase 2011 – Dag 8