Damage survey
I dag kørte vi 800 km tilbage til Oklahoma city. Målet var at besigtige skaderne omkring El Reno efter den kraftige tornado, som vi kom rimelig tæt på.
Skydækket bestod af min hadesky nummer 1, stratus. Det var typisk bagsidevejr, og temperaturen var faldet til små 24 grader, og man gik faktisk og småfrøs lidt efter de meget høje temperaturer tidligere.
Da vi alle var kommet sent i seng, havde ingen af os spist morgenmad. Så vi besluttede at køre lidt og kigge efter noget. Det endte med, at vi kørte i flere timer, før vi endelig fandt et Waffle House. Det minder meget om Ihop. Her fik vi lækker morgenmad og god kaffe.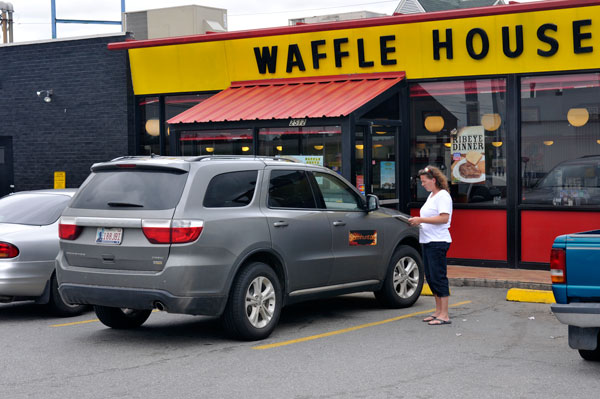 Vi fortsatte mod El Reno, hvor vi ankom ved 20-tiden. Først kørte vi op på broen, hvor vi stod, lige før tornadoen kom forbi. Det var helt underligt at se det igen.
Dernæst kørte vi rundt i landskabet. Tæt på broen lå en skrotplads, der var fuldstændig raseret. Det var skræmmende at tænke på, hvor mange dødsensfarlige projektiler der var fløjet rundt i luften den dag. Flere af dem lå spredt rundt i landskabet.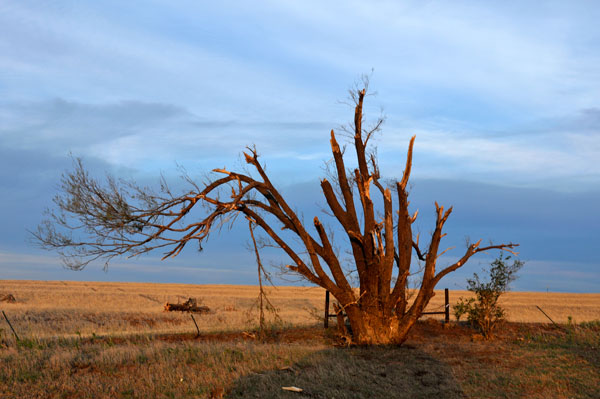 Vi så en bil oppe i et træ, vi så fuldstændig skrællede træer, huse, der var jævnet med jorden, og bunker af ting og sager, der lå spredt overalt. Et meget stort område var berørt.
Oppe på en bakketop lå en rimelig stor gittermast krøllet sammen på jorden. Der skal alligevel noget til. Vi fik at vide af nogle af de lokale, at en stor lastvogn var blevet løftet op og smidt ud på marken. Heldigvis overlevede chaufføren.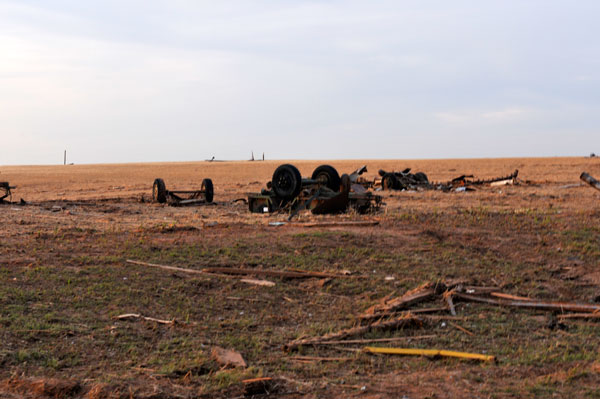 I det tiltagende mørke så vi flere vanvittige eksempler på naturens rasen. En Ford pickup truck var krøllet sammen til ukendelighed, og af en klynge træer var der kun stubbe tilbage og et stort stykke afskrællet jord rundt omkring dem.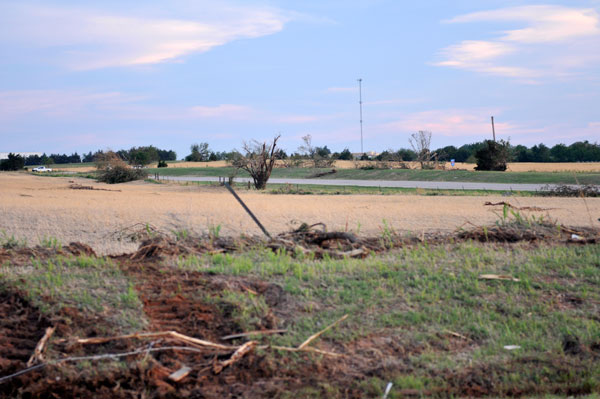 Vi mødte to mænd, der stod med en ramponeret bil på en trailer. Den var blevet smidt rundt af tornadoen, fortalte de. Der var intet rat i den. Måske var det blevet flået ud af bilen.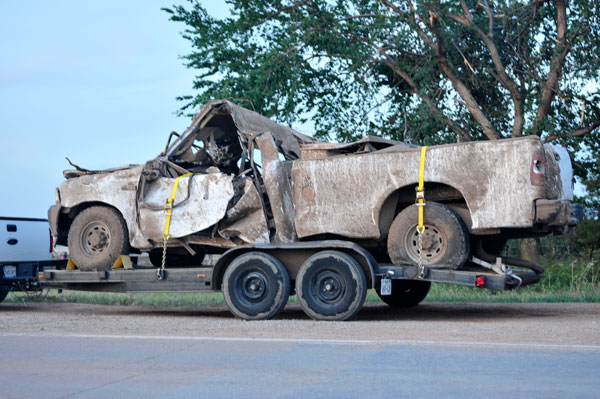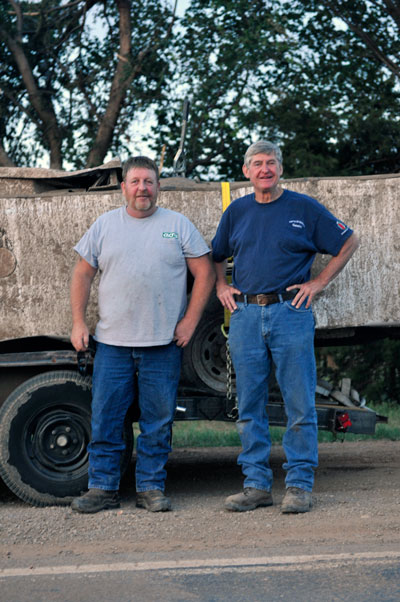 Det gjorde et stærkt indtryk på os alle at se de omfattende ødelæggelser, navnlig i lyset af, at vi havde været så tæt på tornadoen. Marc har gransket videoen fra vores kamera i bilens forrude. Lige idet vi drejer, kan man se udkanten af den store tornado. Dét er skræmmende at tænke på. Alle herovre siger, at det var godt, vi stoppede og samlede manden op. Det reddede formentlig hans liv, men faktisk var det direkte livsfarligt at stoppe, dels på grund af tornadoen, men også på grund af de mange genstande, der kom farende gennem luften. Men heldigvis endte det jo godt.
Tornadoen er foreløbig klassificeret som en EF4-tornado, men ifølge Marc havde den gate to gate shear på 360 miles i timen, det er betydeligt mere end i Greensburg-tornadoen. Gate to gate shear er rotationshastigheden oppe i luften, så ud fra det ville det være en EF5-tornado. Uanset hvad var den meget voldsom.
Radaranimation af bygelinjen, vi chasede. Bemærk, når bygerne nærmest laver en krog i den sydlige ende. Det indikerer, at der kan være en tornado. Vi var omkring den midterste.
Vi sluttedede af med at spise sammen med Warmsector. Dernæst tog vi afsked med hinanden. Paul og Sarah skal snart hjem, og jeg har lovet Mette, at vi også skal lave andre ting, meeen der er jo lige en slight risk for det her område i morgen… Nå, vi må se.
Jeg vil prøve at knokle med internettet og det program, der gør det muligt at vise vores position. Det er, som om flere af tingene har besluttet sig for at stå af samtidig. Nå, jeg må bare klø på.
Hilsen
Mette og Kai-Asle
Related Images:
https://www.stormhunt.org/wp-content/uploads/2011/05/005.jpg
399
600
admin
https://www.stormhunt.org/wp-content/uploads/2019/04/03_hjemmeside-1.png
admin
2011-05-26 23:00:49
2013-12-27 18:31:21
Stormchase 2011 – Dag 7