Sightseeing
Dagen i dag er gået med at shoppe og se på seværdigheder.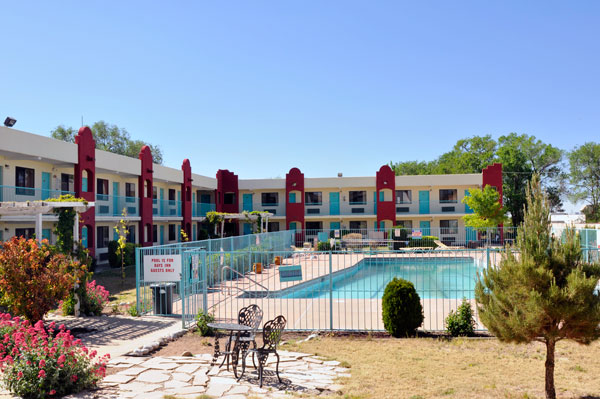 Days Inn i Santa Fe
Santa Fe's gamle bydel huser blandt andet USA's ældste fungerende kirke og ældste hus. Derudover er der et væld af turistfælder, som man bare må tage som en oplevelse. Byen er bygget i nærmest terakottastil og er en behagelig afveksling fra det lidt ensformige og halvkedelige Midtvesten. Læs mere om byen her.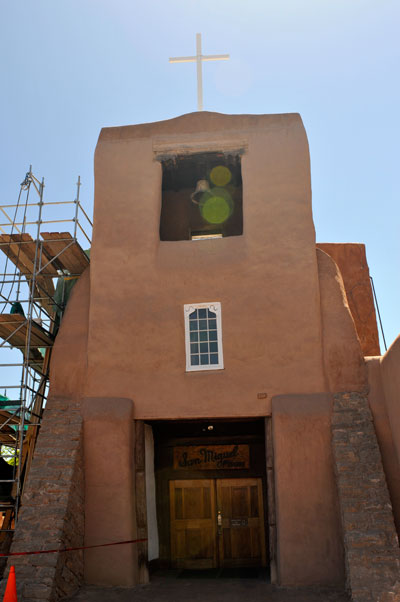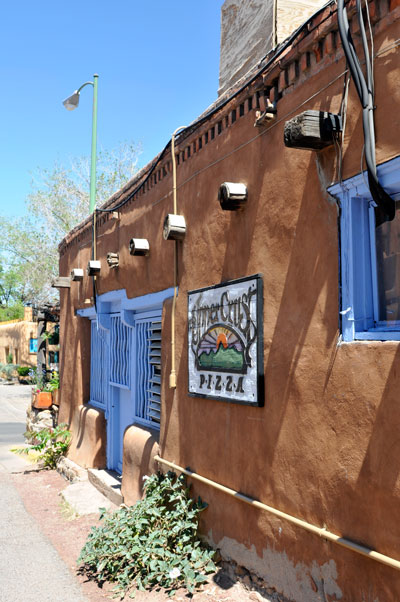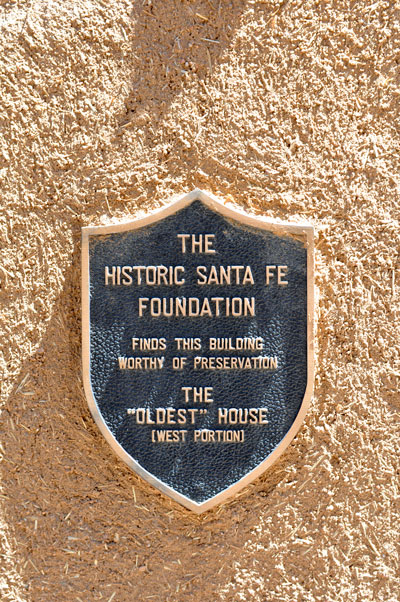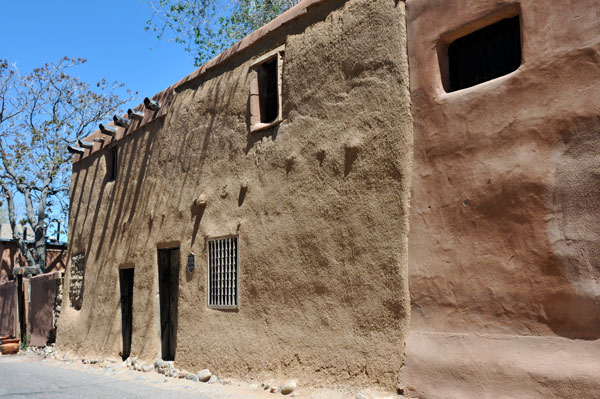 Santa Fe har også et stort kunstnermiljø, der især har sat deres præg på den gamle bydel, hvor man kan købe et hav af hjemmelavede ting som smykker, lertøj, glas, malerier, tæpper, tøj med mere.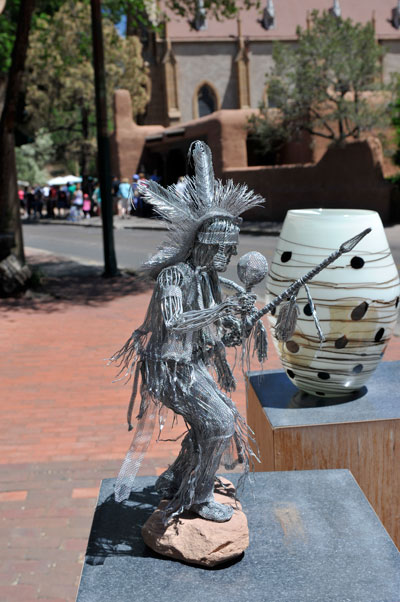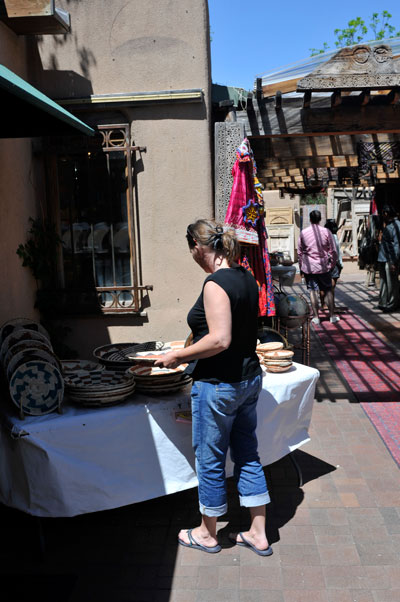 Det var dejligt at bevæge sig rundt i byen, selvom der var mange turister. Der var oven i købet også fodgængerfelter, hvilket man ellers ikke ser i Midtvesten.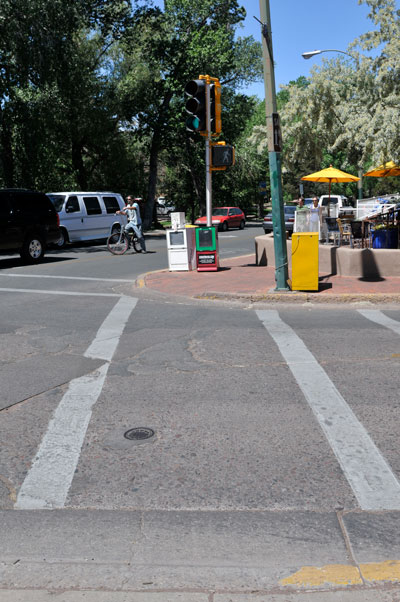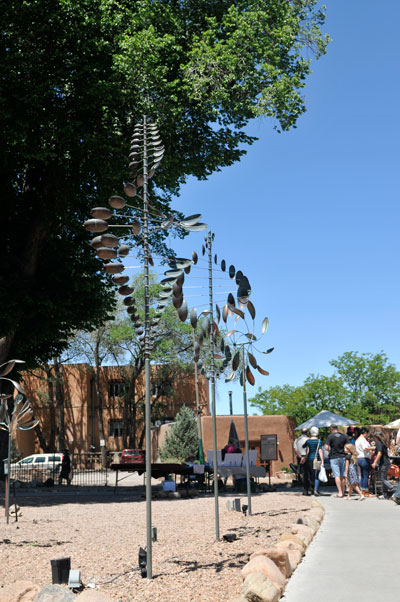 Vi talte om, at det kunne være et dejligt sted at bo. Hverken tornadoer, orkaner eller jordskælv og tæt på Tornado Alley. Varme somre og kolde vintre med gode muligheder for at stå på ski.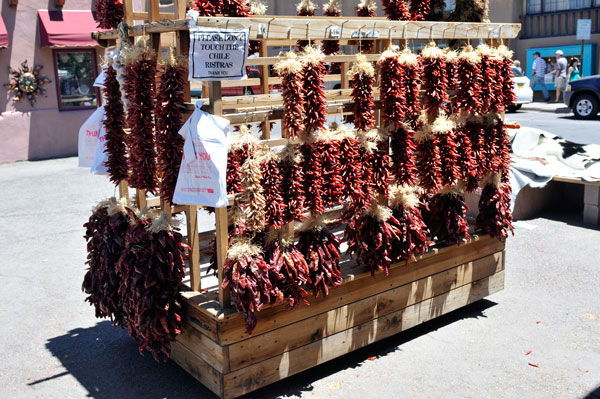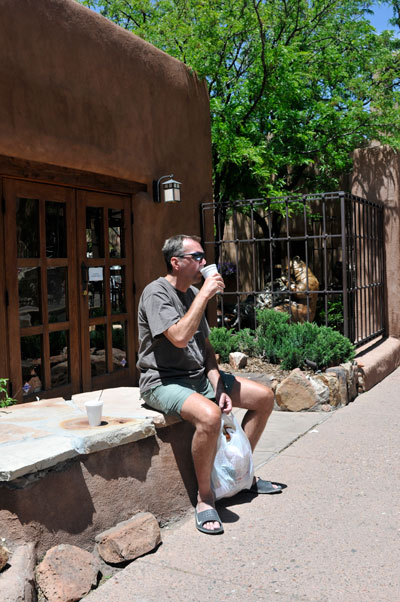 Efter at have købt forskellige ting satte vi kursen nordpå mod Colorado Springs. Vi valgte at droppe vulkanen, da den lå et stykke fra den vej, vi skulle.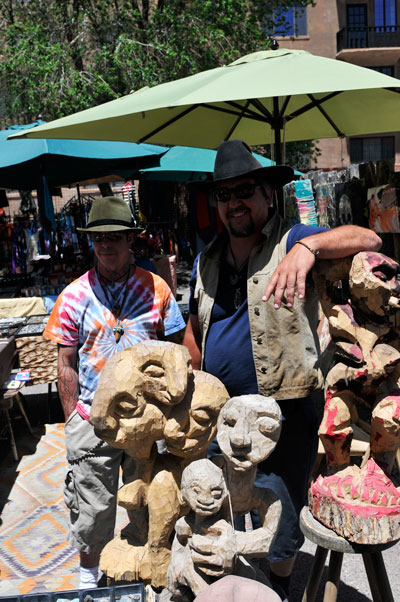 To kunstnere, som lavede et bestillingsjob for os
Et stykke nordpå fik Mette øje på en hestetransport, hvor hestene var opsadlede og rideklar.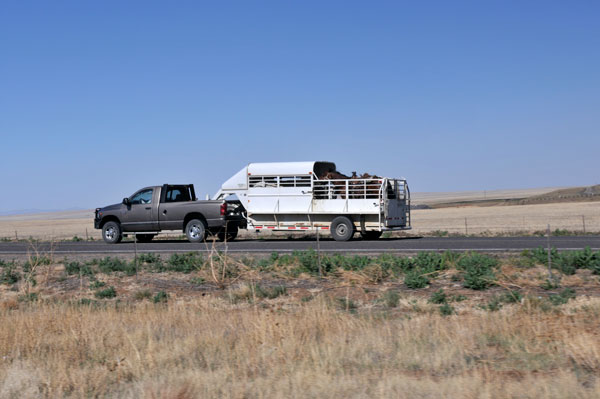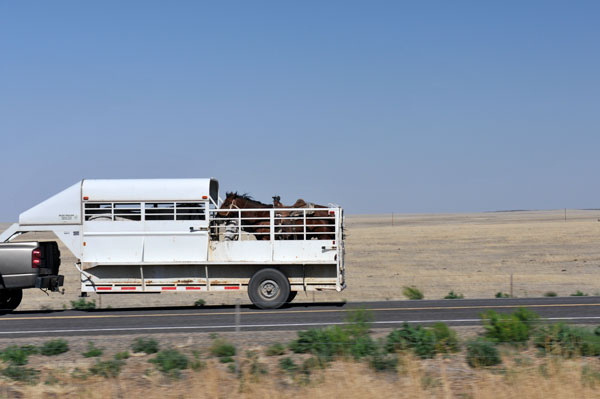 Senere fik vi øje på en større skovbrand. Også her er vegetationen som en krudttønde som følge af den ringe nedbør, kraftige blæst og tørre luft.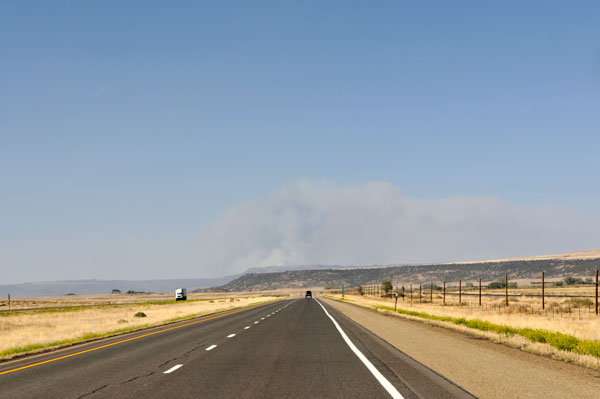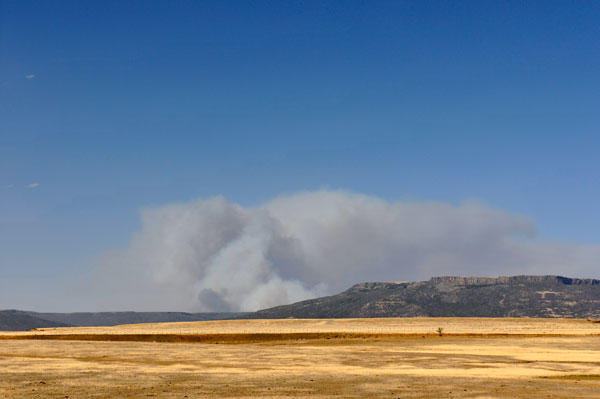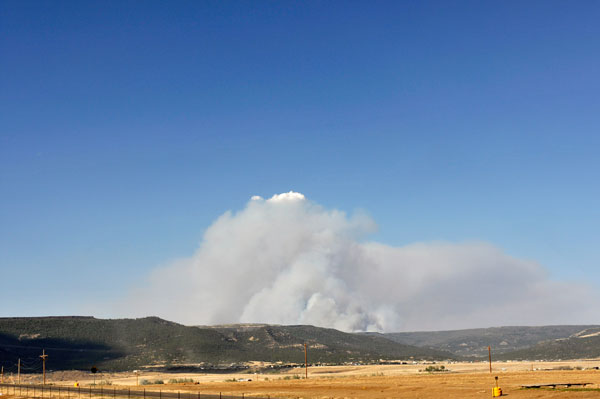 Da vi nåede til byen Raton, viste det sig, at vulkanen lå sølle 40 km mod øst, så vi drejede af og kørte den vej. Klokken var dog blevet omkring seks, så vi tvivlede på, at der var åbent. Og ganske rigtigt var der lukket. Men landskabet var imponerende. Det var fyldt med sorte lavasten, som den nu udslukte vulkan havde slynget højt i vejret. Så alene det var en oplevelse.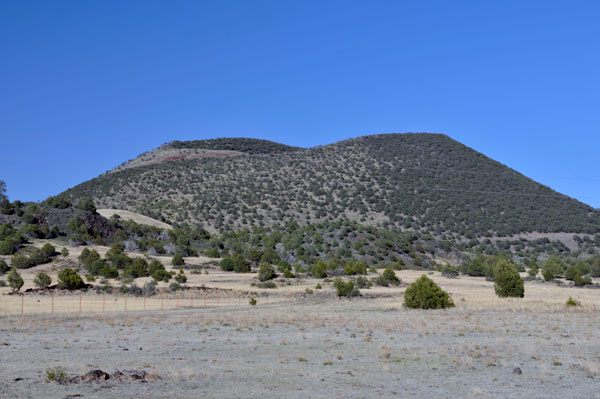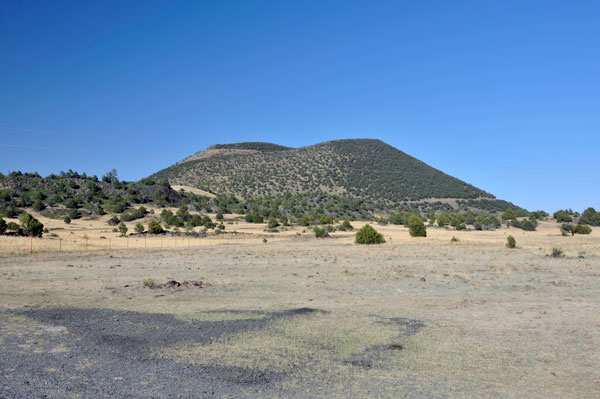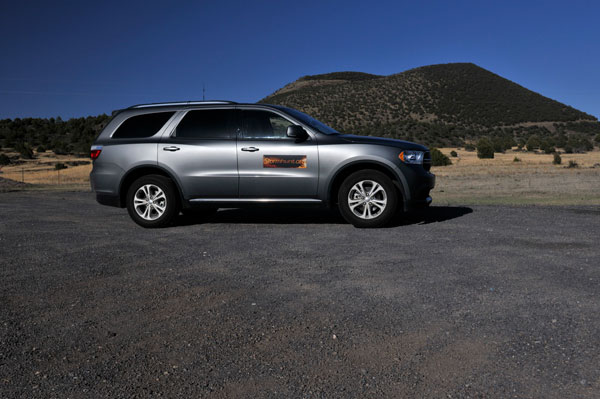 Som sagt var klokken mange, så vi snuppede en hurtig burger på Sonic i Raton og kørte nordpå. Målet var nu Pueblo, 160 km derfra.

Landskabet skiftede hurtigt karakter. Vi bevægede os ned fra den to kilometer høje slette og tog nu hul på regulær bjergkørsel. Et skønt afbræk fra de mange lige strækninger.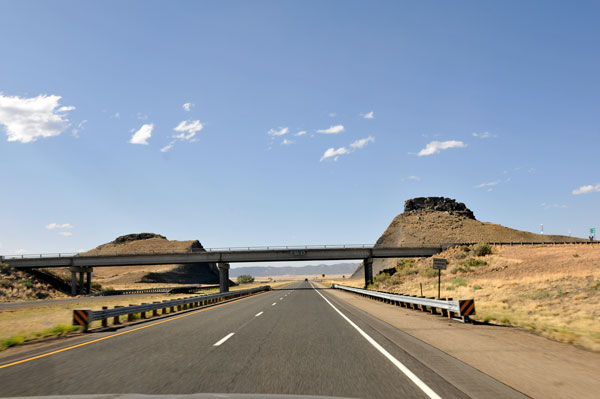 Vi ankom til Pueblo ved halvtitiden og checkede ind på Days Inn.
I morgen vil vi til Colorado Springs, hvor der er flere gode ridemuligheder.
Vi vil gerne takke alle jer, der har skrevet kommentarer på bloggen, Facebook og andre steder. Det gør det lidt sjovere at skrive den til tider sene blog.
Vi snakkes.
Mette og Kai-Asle
Related Images:
https://www.stormhunt.org/wp-content/uploads/2011/05/042.jpg
399
600
admin
https://www.stormhunt.org/wp-content/uploads/2019/04/03_hjemmeside-1.png
admin
2011-05-29 23:23:41
2016-03-06 23:08:33
Stormchase 2011 – Dag 10