Dagens chauffør: Kai-Asle
Target area: Devils Tower, Wyoming
Afstand: 500 km
Dagens tema: Seeing the sights
Vejr: Skyfrit, 30 grader
Menu: Superstart breakfast, Subway, Bisonbøf(igen)

Dagen i dag begyndte med en hurtig gang let morgenmad og så lidt solbadning ude ved poolen, der desværre først bliver fyldt med vand i næste weekend.
Det unge par, der driver motellet, var utrolig søde og gæstfri. De sagde, at vi kunne blive hængende til tolv-halvettiden, hvis vi ville.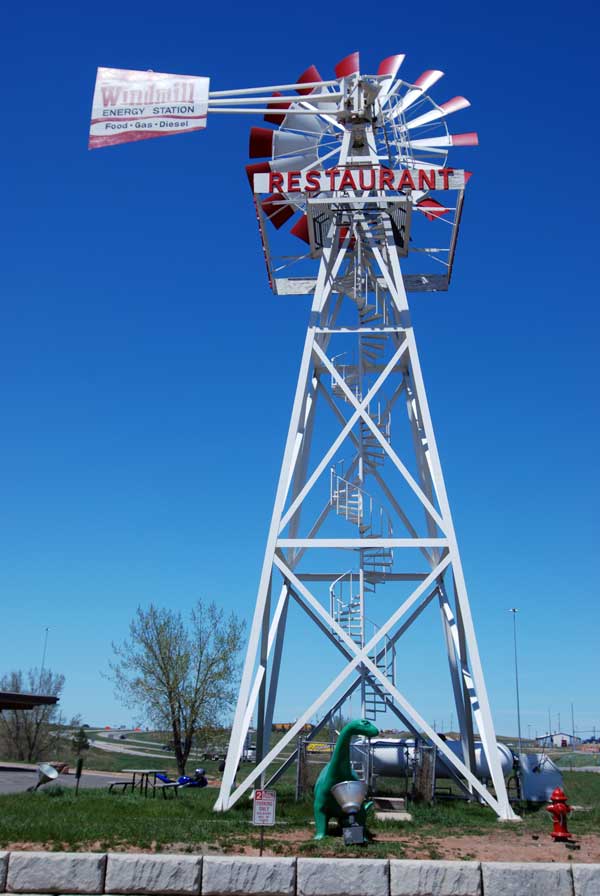 Thomas og jeg snuppede en time på øjet i liggestolene ved den tomme pøl. Dernæst blev vi enige om at tage til Devils Tower i Wyoming, der kun ligger to en halv times kørsel herfra. Samtidig forhørte vi os, om vi kunne beholde værelserne et døgn mere, og det kunne vi.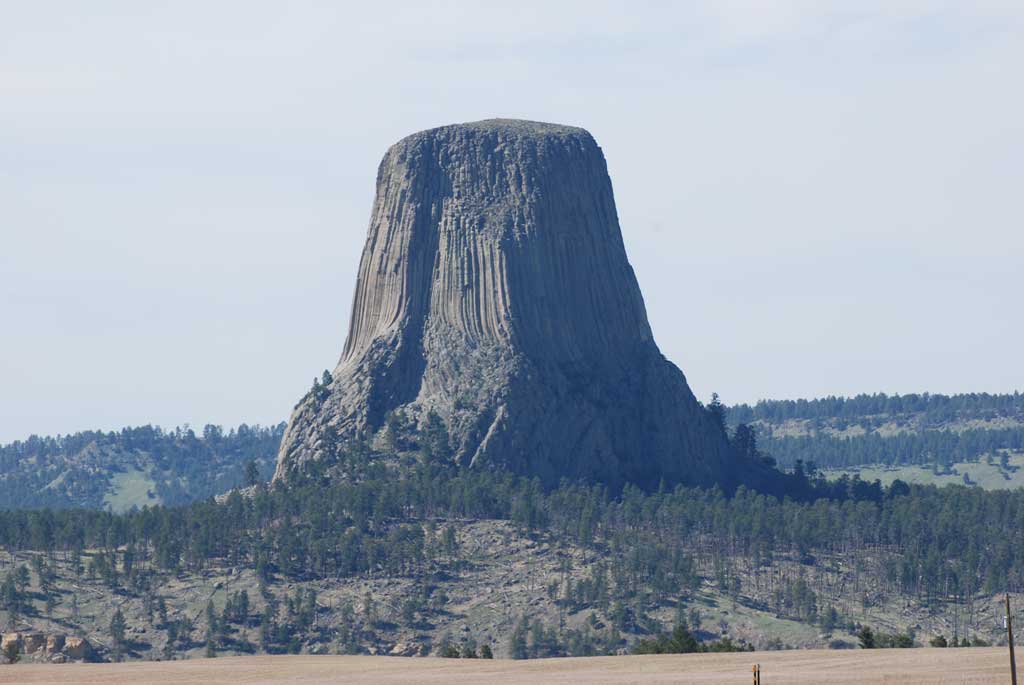 Devils Tower

Devils Tower husker nogen måske fra Steven Spielberg-filmen "Nærkontakt af tredje grad", hvor rumvæsener og mennesker mødes lige præcis ved Devils Tower.
[youtube id="rwGgZi6dR8U" align="center" mode="normal" aspect_ratio="16:9″ maxwidth="550″]
Turen derop var superflot. Bølgende, frodige landskaber med rancher med heste og køer. Bakkerne var en blanding af rødt ler og klippe og lignede ikke noget, jeg før har set.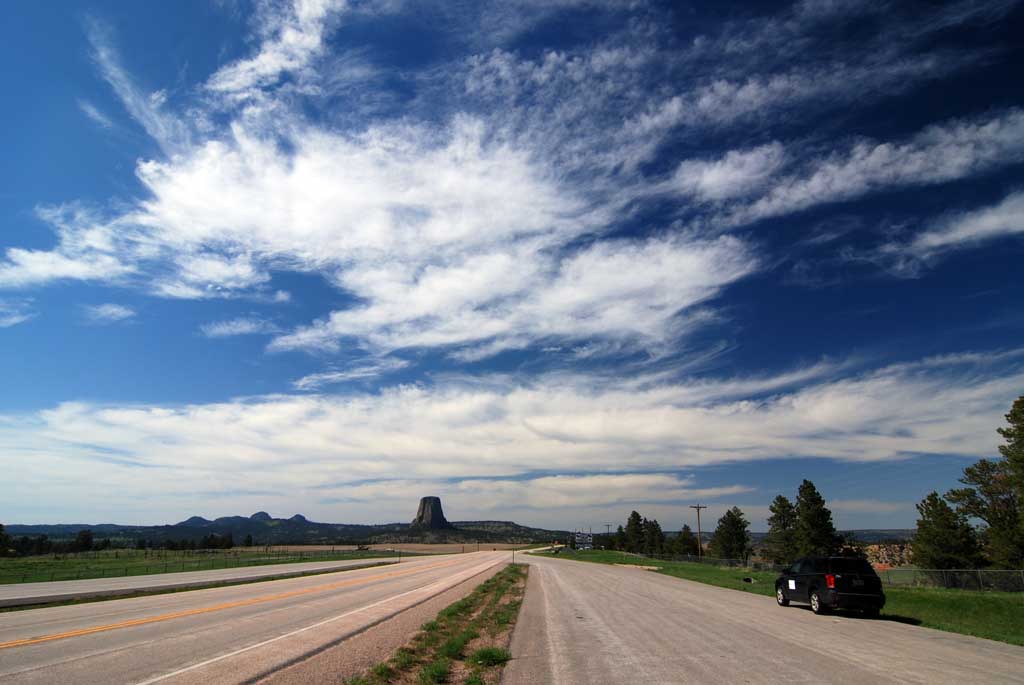 Da vi nærmede os Devils Tower, kom vi for alvor op i bjergene, cirka 1400 moh. Det var en afveksling fra de lange strækninger på motorvejen. Efter små 20 minutter dukkede klippen pludselig op i horisonten. Det var et betagende smukt syn med den høje klippe, der rejste sig majestætisk over det bakkede landskab.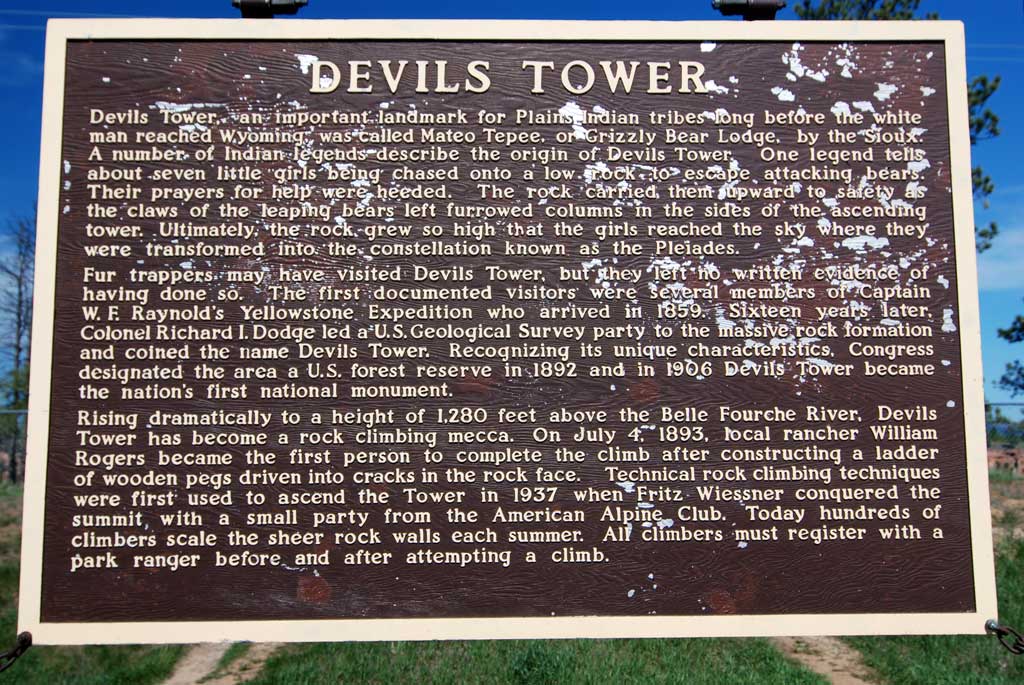 Jeg så straks rumskibene fra filmen foran mig og de mennesker, der desperat forsøgte at nå derop.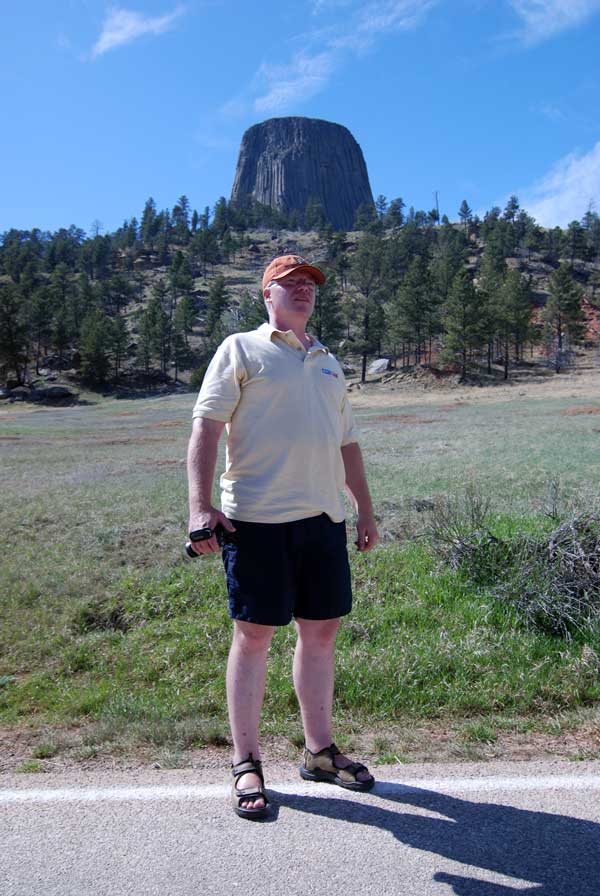 Per har klogeligt iført sig kasket i den stærke sol!
Lige før vi nåede helt derhen, holdt vi ind til siden og beundrede de mange præriehunde, der sad og gøede. Ja, I hørte rigtigt. De gøede ligesom hunde. Bare i et noget højere toneleje.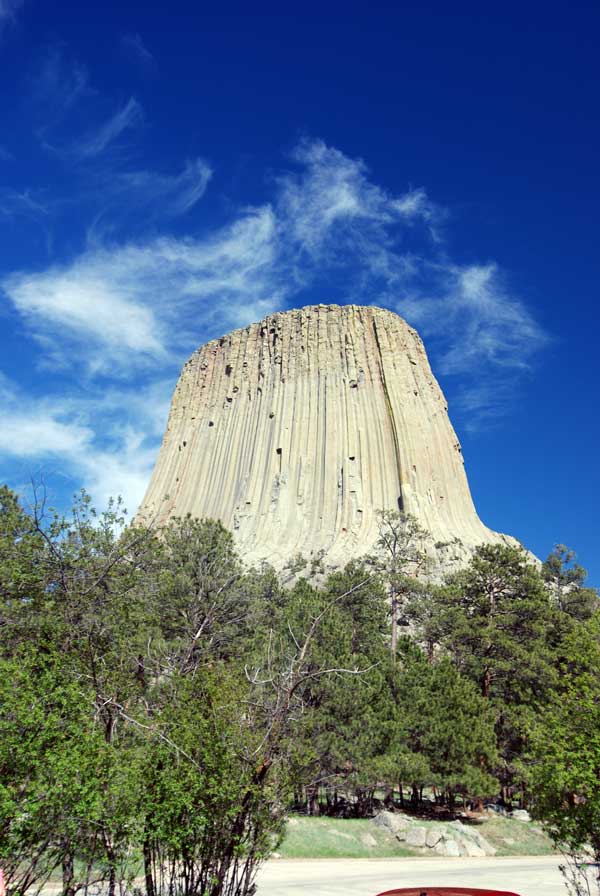 Oppe ved foden af klippen skiftede jeg badesandalerne ud med sko, og vi begyndte at følge en sti op i terrænet. Solen bagte ubarmhjertigt ned på os fra en næsten skyfri himmel. Det var små 30 graders varme, så jeg smed T-shirten.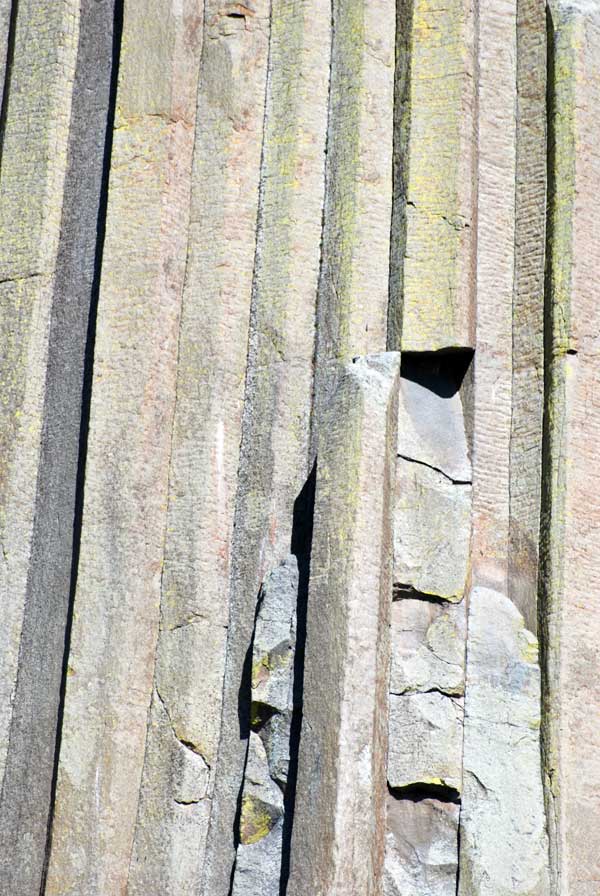 Her et nærbillede af selve klippen. Bemærk skurestriberne.

Det var fantastisk at læse om klippen, der stammer fra en vulkan. For millioner af år siden lå den tre kilometer under havets overflade. Nu rager den 1200 meter op over overfladen!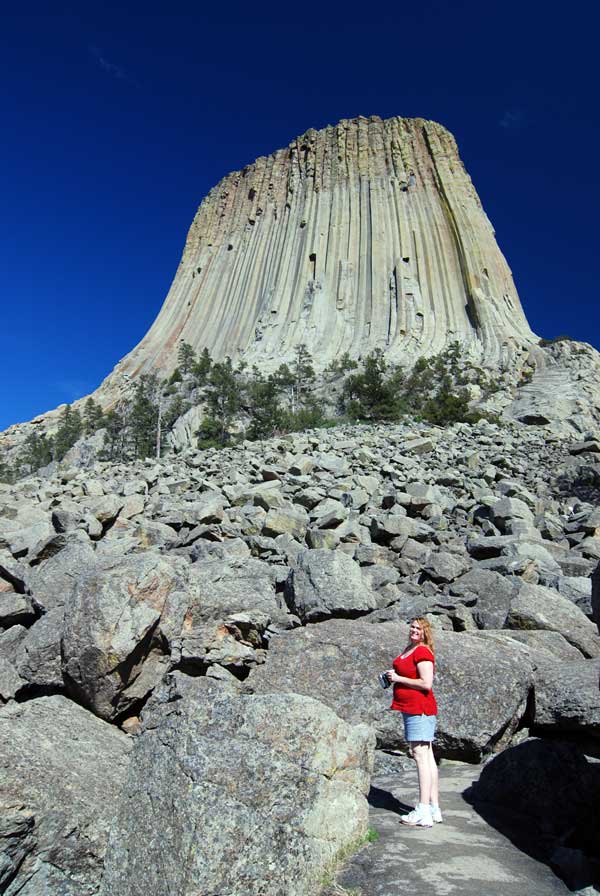 Sarah poserer neden for klippen

Det var en skøn oplevelse at se klippen. Det virkede ikke nær så turistpræget som Mount Rushmore. Her var man mere tro mod naturen.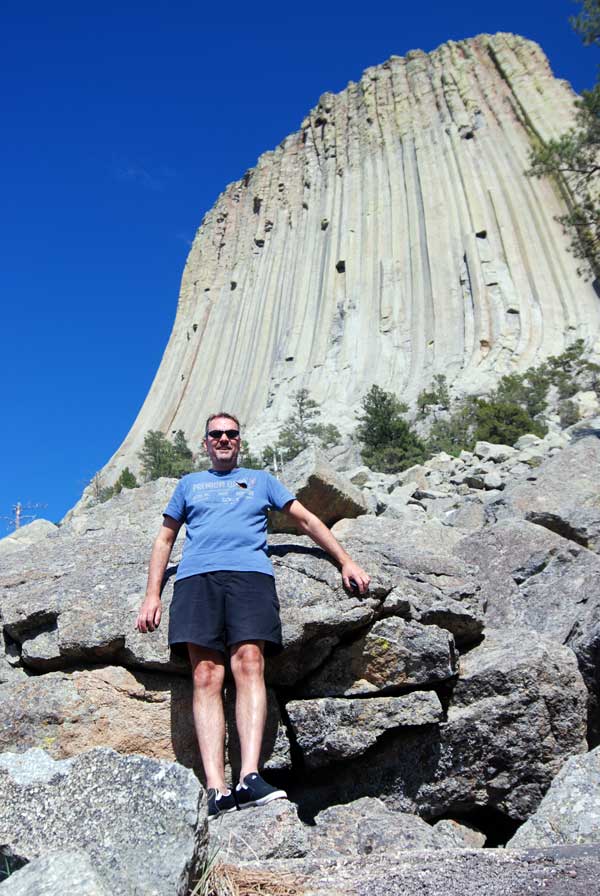 No comments necessary!

Klippevæggen var overstrøet med klatrere. Og da lyden blev ført ned mod os, kunne vi uden besvær høre alle de kommandoer og advarsler om nedfaldende klippestykker.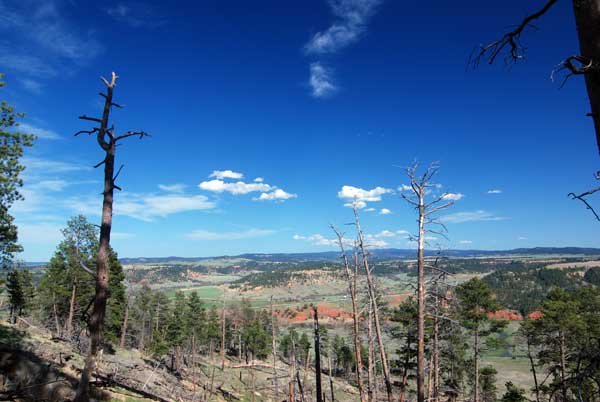 På vej hjem holdt vi ind i Rapid City, der er en forholdsvis stor by. Her spiste vi aftensmad på The Brewhouse, der er en tidligere brandstation, hvor mange brygger sit eget øl. De havde mange hotte ting på menuen, men jeg valgte nok engang bisonbøf, da det smager forrygende, og et stort glas mørkt øl.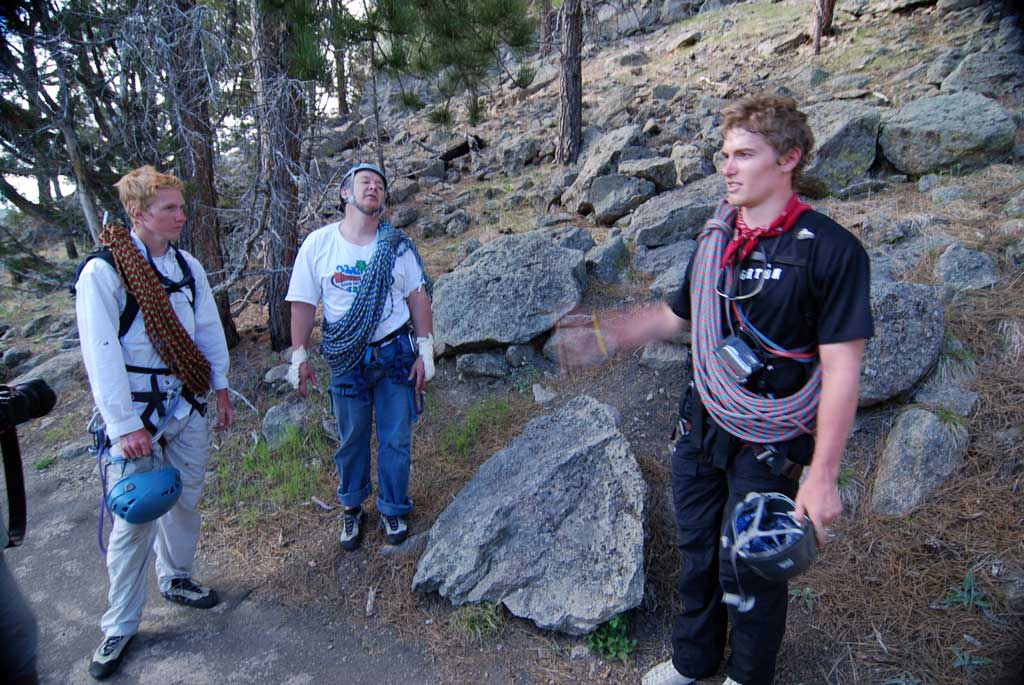 Udmattede bjergbestigere!

Da vi hen under aften kørte de sidste 70 km hjem, var vi alle enige om, at det havde været den bedste off-dag.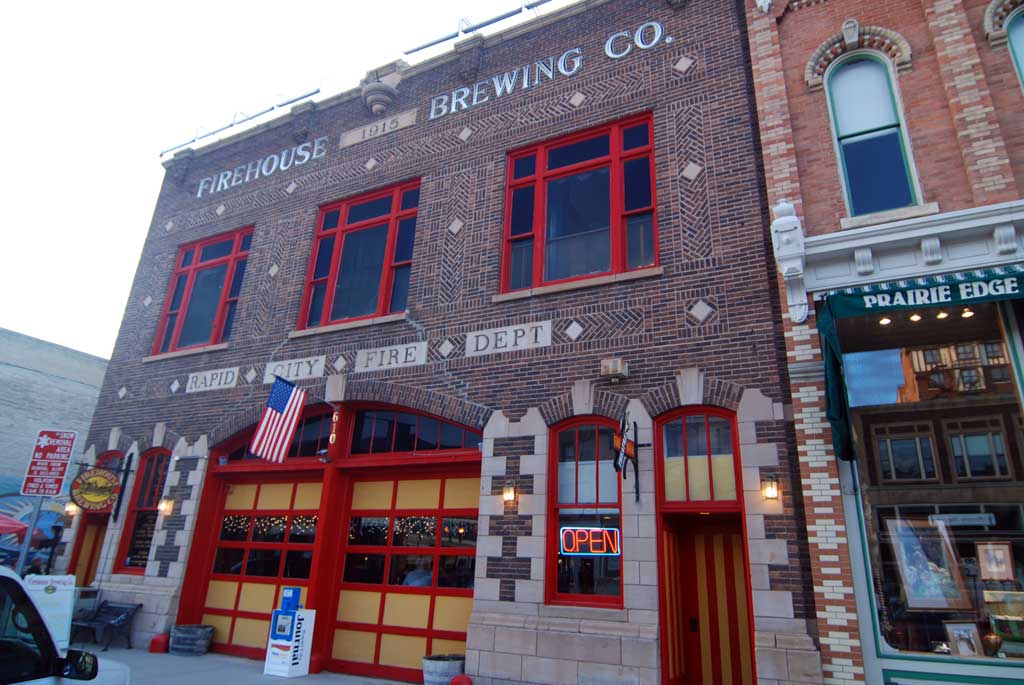 Thomas og Paul har i skrivende stund planer om at tage ud til The Badlands i morgen tidlig og filme det helt specielle lys, der falder ved solopgang. Ikke noget, jeg gider stå op klokken fem for. Men respekt!
Vi holdt et kort nachspiel på motellet, før vi kravlede til køjs.
Vejrsituationen ændrer sig kun lidt. Dog er der en meget lille chance for nogle isolerede tordenbyger et eller andet sted her i området. Så vi krydser fingre. Vi er trods alt ikke taget herover for at lege turister.
See you, folks!
Kai-Asle

https://www.stormhunt.org/wp-content/uploads/2009/05/DSC_0019.jpg
685
1024
admin
https://www.stormhunt.org/wp-content/uploads/2019/04/03_hjemmeside-1.png
admin
2009-05-18 19:53:39
2016-04-09 20:45:03
Stormchase 2009 – Dag 10