Dagens chauffør: Thomas (50 km), Kai-Asle
Target area: Salina, Kansas
Afstand: 400 km
Dagens tema: Afsked, transport og forventning
Vejr: Sol, 27 grader, lidt skyer
Menu: Superstarter breakfast, eggs and steak
Så skete det. Dagen, hvor jeg måtte tage afsked med Thomas og Per, oprandt.
Vi spiste morgenmad sammen og pakkede dernæst bilen.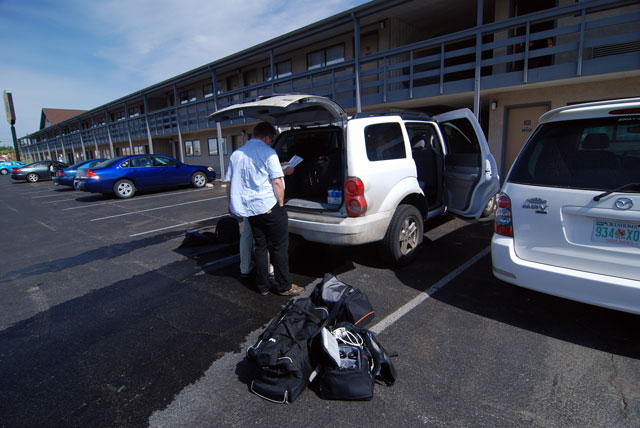 Så satte vi kursen mod lufthavnen i Oklahoma City, Will Rogers World. Ude i afgangshallen var det lidt underligt at tænke på, at jeg rent faktisk havde en billet til det fly, Thomas og Per skulle med.
Men jeg havde jo taget en beslutning, så længere var den ikke.
Vi sagde farvel og tak.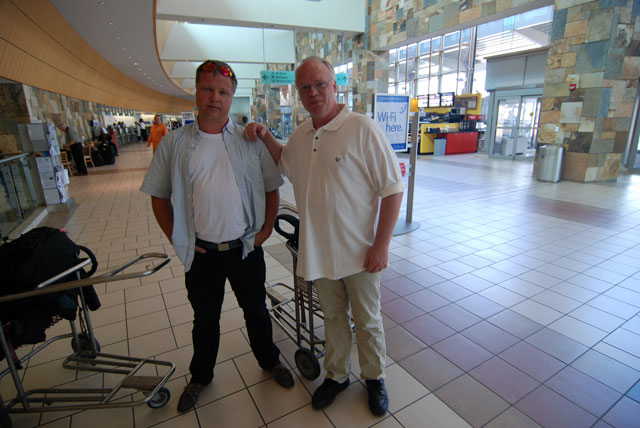 God tur hjem, venner!
Og selvom jeg forventer at lave en slags opsummering senere, så vil jeg gerne have lov til at sige jer tak for godt selvskab, for godt teamwork, for god underholdning (Per), når du kom med rapporter fra Baron-systemet: "Hvis vi overlever den først, bliver vi knust af den næste". "Det hele eksploderer nu".
Meget spændende og medrivende. Det var en meget underlig fornemmelse at se jer forsvinde ind gennem Security, men sådan er det.
Jeg stod nu tilbage med al min bagage: To meget store tasker, en mindre taske, en rygsæk, en kasse Gatorade samt en stor køleboks. Øjnene var ved at trille ud på folk, da jeg gik gennem terminalen. "Is he going on a plan with that?!"
Min plan var at smutte nedenunder, leje en dyt for en dag og køre nordpå for at mødes med Marc og Sarah et sted i Kansas. Det var ikke så ligetil. I USA er der i den kommende weekend Memorial Day, en stor helligdag. Derfor var der ingen udlejningsbiler at få!! Et øjeblik var der dømt Palle alene i verden. Nu var gode råd dyre. Jeg vandrede frem og tilbage. Til sidst gik jeg tilbage til Miguel hos Enterprise og sagde: "You gotta help me, man"! "Let me see, what I can do", svarede han.
Og søreme om det ikke lykkedes at fremskaffe et styks køretøj. Ikke helt den vanlige standard, men pyt.
Thanx a lot, Miguel!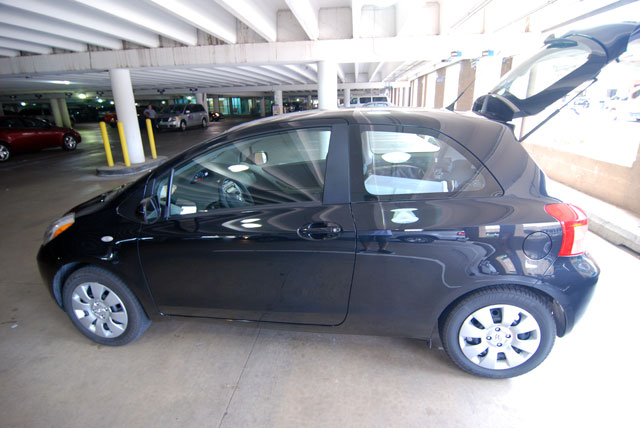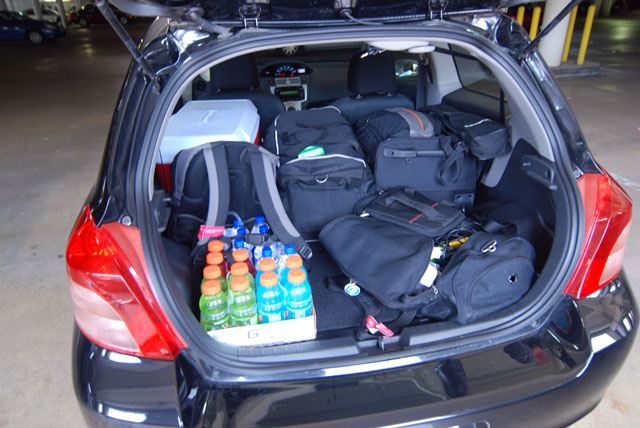 Der er lige plads til bagagen og én person
Jeg satte dernæst kursen mod Salina, Kansas. Her sidder jeg nu og skriver et par linjer.
Forhåbentlig bliver bloggen meget mere ophidsende i morgen.
Prognoserne er stadig særdeles lovende.
SPC:
A WIDESPREAD SEVERE THREAT SHOULD DEVELOP ACROSS PARTS OF THE REGION LATE THURSDAY AFTERNOON INTO THURSDAY EVENING.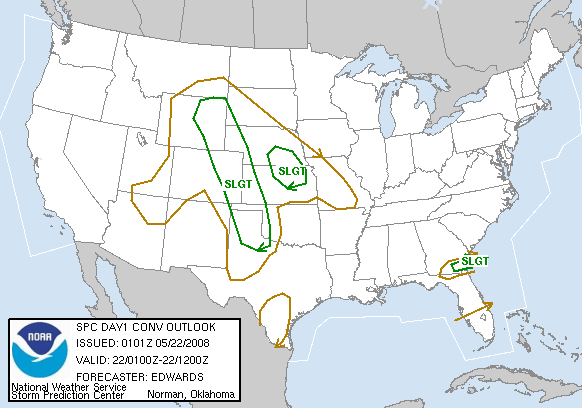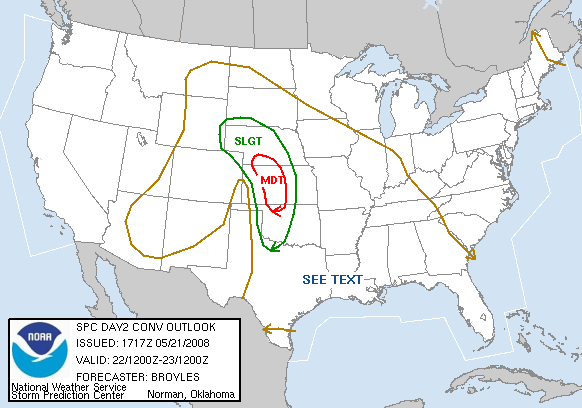 Jeg sidder i det røde T

Et lavtryk mod vest bevæger sig langtsomt østover ind mod Tornado Alley. På forkanten pumpes meget varm og fugtig luft nordpå. Samtidig drejer vinder med højden, shear, så er der meget gode muligheder for dannelse af kraftige superceller med meget store hagl og muligvis kraftige tornadoer.

Vi forventer, at target området bliver et sted omkring sydvestlige Kansas nordvestlige Oklahoma. Måske syd for Dogde City, hvor vi også var sidste år.
Vi må se.
Jeg opdaterer måske først bloggen sent i morgen nat amerikansk tid, da det forhåbentlig bliver en lang og travl dag.
Jeg er nu kommet med på Stormspotter Networks kort.
Klik her. Jeg hedder Stormhunt. Så kan I følge med i, hvor jeg kører. Obs. Husk at zoome ind på +'tegnet, hvis der ligger flere oven i hinanden.
Linket til livestreamen ligger ude til højre. Gå ind på siden og klik på mit navn.
TV2 har skrevet en artikel om mig her.
See U!
Kai-Asle
Related Images:
https://www.stormhunt.org/wp-content/uploads/2008/05/DSC_0002.jpg
428
640
admin
https://www.stormhunt.org/wp-content/uploads/2019/04/03_hjemmeside-1.png
admin
2008-05-22 03:53:56
2016-03-07 22:31:31
Stormchase 2008 – Dag 17