Dagens chauffør: Per
Target area: Sonora, Texas
Afstand: 500 km
Dagens tema: Afsked
Vejr: Brændende sol, slatne byger
Menu: Ihop (æg og bacon), chips, udsøgt T-bone steak med salat, bagt kartoffel og brød og kolde øl. Mums!
Dagen i dag begyndte med at skrive blog fra i går. Det hjalp at få fem en halv times søvn, selvom det stadig ikke er nok. Men da der ikke rigtig var udsigt til noget vejr i dag, regnede vi ikke med, at dagen ville blive synderlig hektisk.
Da vi skulle tage afsked med Warmsector og Felix, besluttede vi at spise morgenmad nok en gang klokken 12 på Ihop. Jeg var så fantasifuld at spise det samme, som jeg fik i går. Æg og bacon med pølser og pandekager og mælk og kaffe.
Snakken gik livligt hen over bordet, og hyggen var helt i top.
Bagefter gik vi ud på parkeringspladsen, hvor Felix så ville lave interviews med os alle.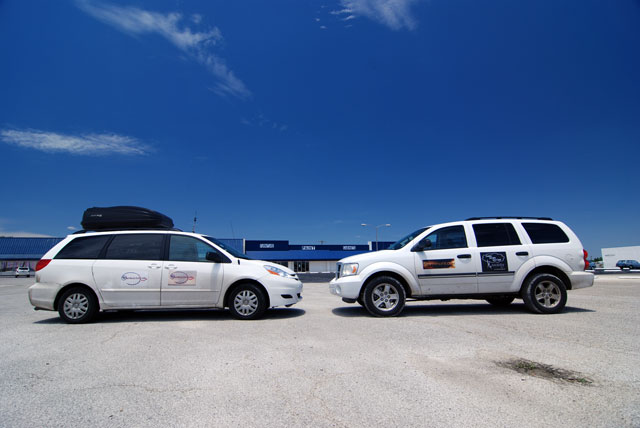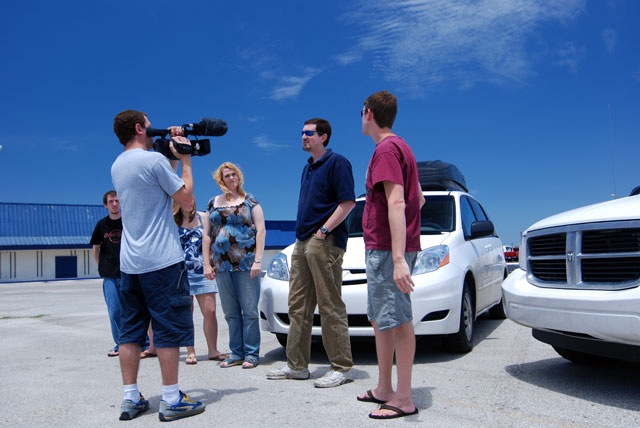 Det kom der bunker af billeder og masser af sjov ud af.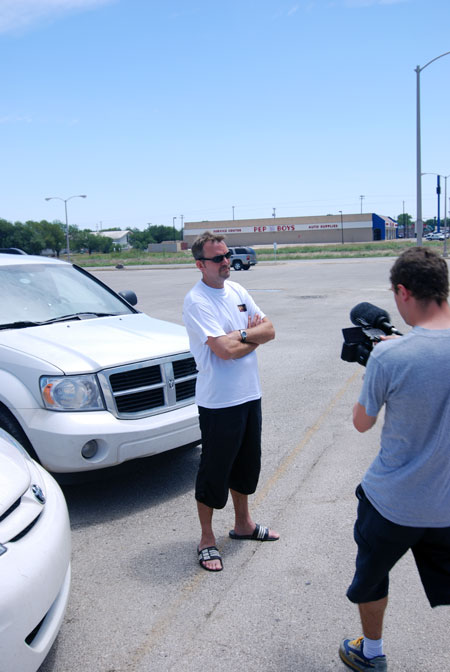 Felix instruerede os på sit gebrokne engelsk: "Ky As, ju mås tell mi abøt jyrself".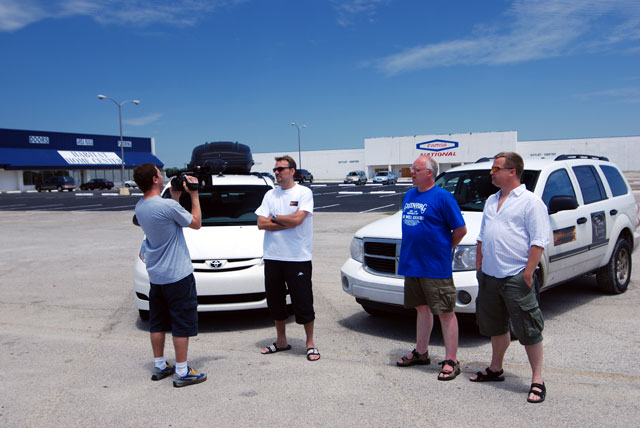 Der blev filmet og knipset til den store guldmedalje.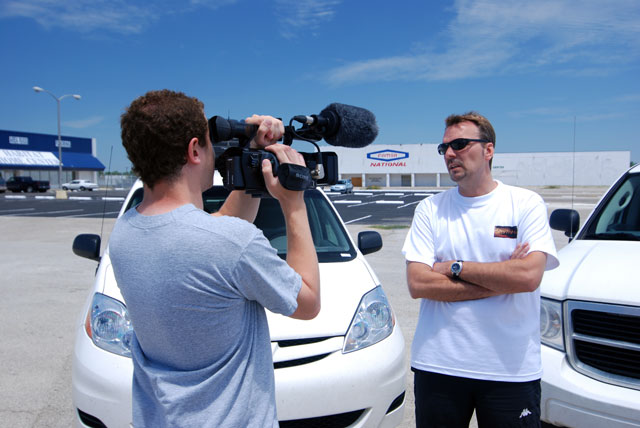 Felix er en fin fyr med fuld fart på. Han er rejst alene herover for at lave en dokumentarfilm om Tornado Alley. Da konkurrencen på området i forvejen er meget stor, har man valgt en anden vinkel på emnet. Han interviewer således både chasere, tornadoofre, brandfolk og meteorologer. Han håber på at kunne få solgt filmen i Europa, når den er færdig, formentlig til september.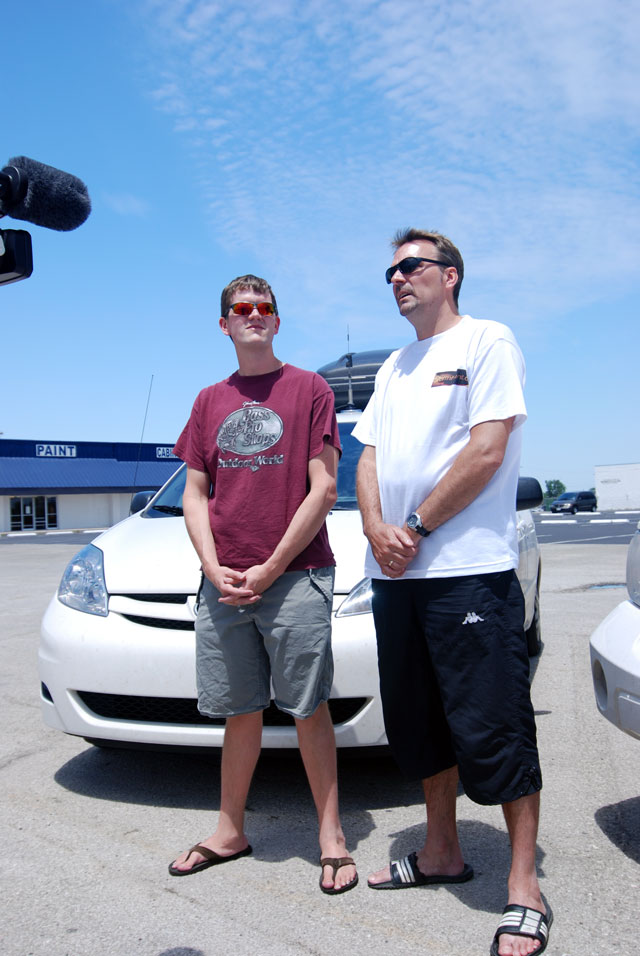 Til sidst kom den uundgåelige tårevædede afsked. Det er altid svært at tage afsked med så gode og efterhånden nære venner.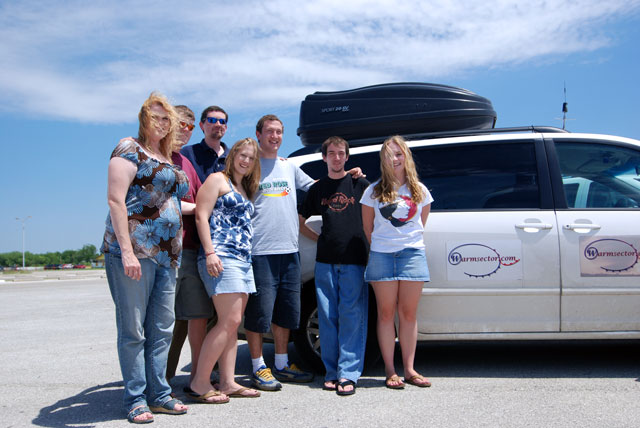 Warmsector med Colby og Melody til højre

"Guys, you will be in our hearts untill next year. As always it's been great fun to chase with you. Although the theme for this years chase was tardiness, it was also very educational. I now know a lot more about using and reading the models, targeting and chasing in the fields. We didn't get to see as much action as last year, but we still chased as much as possible and got some beautiful storm structures and some close calls.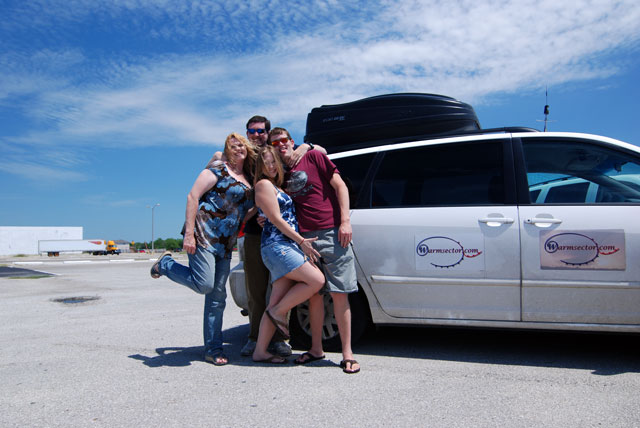 Warmsector

Thanks to each and every one of you and thanks to Colby and Melody. It was very nice meeting you'all. Hope to see you again real soon. Take care now, my friends."
Der indfinder sig altid en underlig følelse af antiklimaks, og man skal lige omstille sig. Samtidig var der ikke rigtig noget vejr at komme efter, så vi skulle lige finde ud af, hvad vi så skulle lave.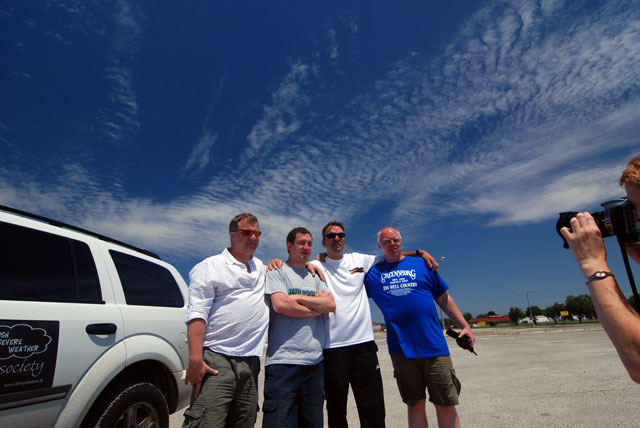 Bygerne nær Eagle Pass var ikke specielt imponerende, så vi drejede nordpå mod Sonora for at komme tidligt frem og få en HEEEL nats søvn!
Det var faktisk her i nærheden, at vi sidste år blev ramt af den voldsomme haglbyge, der lavede buler i vores bil. (se bloggen fra sidste år)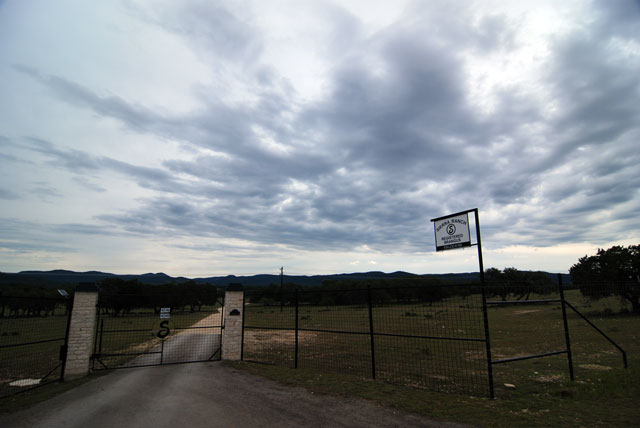 Texas ranch

Vi tjekkede ind på Days Inn allerede klokken otte om aftenen og tillod os den luksus at gå ud at spise på en rigtig restaurant. Utroligt. En aften uden burgere!
Jeg bestilte en lækker T-bone steak med bagt kartoffel, salat og brød til. Det smagte virkelig lækkert. Bagefter smuttede vi hen i den lokale liquor store, hvor vi købte lidt godt til halsen.
Og så bar det ellers af sted til motellet, hvor jeg fyrede op for den bærbare og satte et afsnit af Klovn på. Dejligt med lidt dansk humor. Vi grinede og snuppede lige et ekstra afsnit.
Og nu er bloggen færdig før klokken tolv, så jeg kan faktisk få mange timers søvn. Fantastisk!
Vejrudsigterne for de næste par dage er ikke for opmuntrende, hvis man er til vildt vejr. Der er dog nogle marginal setups, som vi naturligvis vil chase. Endvidere har Warmsector lånt os deres datakort, så vi kan streame, indtil vi rejser hjem på onsdag. Om ikke andet kan I da køre lidt med rundt i landskabet. Her i Texas er forbindelsen faktisk rimelig god.
I dag fik vi en meget sørgelig nyhed. Et af medlemmerne fra Vildtvejrsklubben har desværre fået stillet en terminal diagnose, og vores tanker går til ham…
Jeg vil holde inde og se lidt fjerner, før der skal soves med 400 i timen!
Kh
Kai-Asle
Related Images:
https://www.stormhunt.org/wp-content/uploads/2008/05/DSC_00031.jpg
428
640
admin
https://www.stormhunt.org/wp-content/uploads/2019/04/03_hjemmeside-1.png
admin
2008-05-16 15:00:00
2016-03-07 22:35:46
Stormchase 2008 – Dag 12